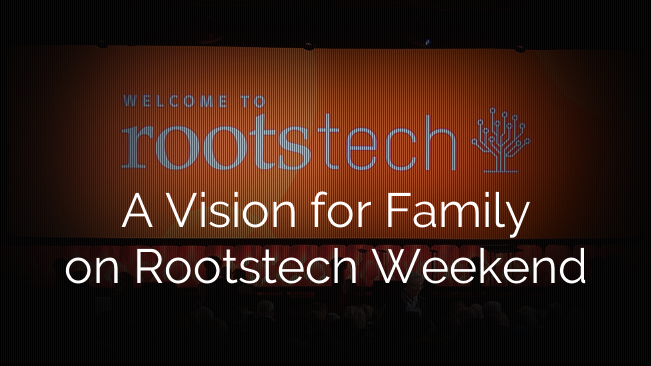 Is anyone out there going to Rootstech this year?
Rootstech is the world's largest convention dedicated to family history. From all over the world people gather to learn more about family history research and to connected with resources, vendors and experts related to geneaology.
It is held every winter in Salt Lake City, Utah and now another event is planned for the fall of 2019 in London.
Rootstech is not cheap. It costs about $200 for entry to the four day event, although it is quite easy to score free tickets for the usual Family Discovery Day offered on the last day of the event. The event offers classes on a number of family search related topics as well as speakers from all over who provide instruction and motivation. I am lucky enough to live close enough to Salt Lake to attend Rootstech most years and I will be going again February 27th through March 2nd.
I know there are others in the family who either attend this event each year or hope to attend it in the future. I have a hope that we can someday gather whatever family can attend Rootstech to meet up and share resources.
My vision for it would extend to something even greater if we could drum up enough interest. On the Sunday after Rootstech I would like to see us host our own family gather dedicated to our family history. This could be held close to Salt Lake City and live-streamed to family anywhere. The combination of Rootstech the conference with a family event dedicated to family history would be a great way to improve our collective efforts, to foster greater momentum in pushing the work forward and to build a love for our heritage with our children and grandchildren.
Such a family gathering could showcase talks given by family members, especially the elderly who cannot travel but want to contribute. It could easily share gathered information, photos and videos that others perhaps have not seen and it could generate ideas from family folks engaged in the work from all over.
That would be the eventual vision. For now I would settle on just knowing who would be at Rootstech this year and who wants to meet up if you are going. If you are, please fill out the information below so I can contact you:
(Visited 124 times, 1 visits today)
https://westoverfamilyhistory.org/wp-content/uploads/2019/01/rootstech.png
366
651
Jeff Westover
https://westoverfamilyhistory.org/wp-content/uploads/2022/04/logo22.png
Jeff Westover
2019-01-13 10:42:28
2019-01-13 10:42:28
A Vision for Rootstech