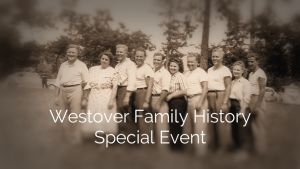 On September 22nd, 2018, we have reserved for us the Family History Library in Rexburg to host a very special family history event.
The event will begin at 10am and last until 4pm at the Rexburg Family History Center at 29 West and 1st North in Rexburg.
We are hoping to gather as many family members who are able to bring their old photos, journals and documents where together we can digitize and share them. (This is not limited to Westover family history — bring ANY of your family history related items).
We also hope to share verbal family stories (and record them), help family members in need with their personal family history efforts, and to grow the network of family historians.
All are welcome, regardless of their ability to contribute items to scan or their knowledge of family history. In fact, we are hoping to engage with as many who have an interest in the history of the family as possible. Please come, if you are able.
We hope to archive what information we gather here in the secure areas of WestoverFamilyHistory.org so that the information can be shared with those who cannot attend.
We recognize this event is fairly short notice and that many family members are at such a distance that attendance is prohibitive.
Regardless of whether you can attend this particular event please take the time to respond to our survey below.
We want to use it to not only plan for those attending that day but also to gauge interest in hosting future family history events or including family history more at family gatherings.
We are hopeful there is enough interest in the family that we can in the future host other events in other locations around the country to reach as many family members as possible.
(Visited 64 times, 4 visits today)