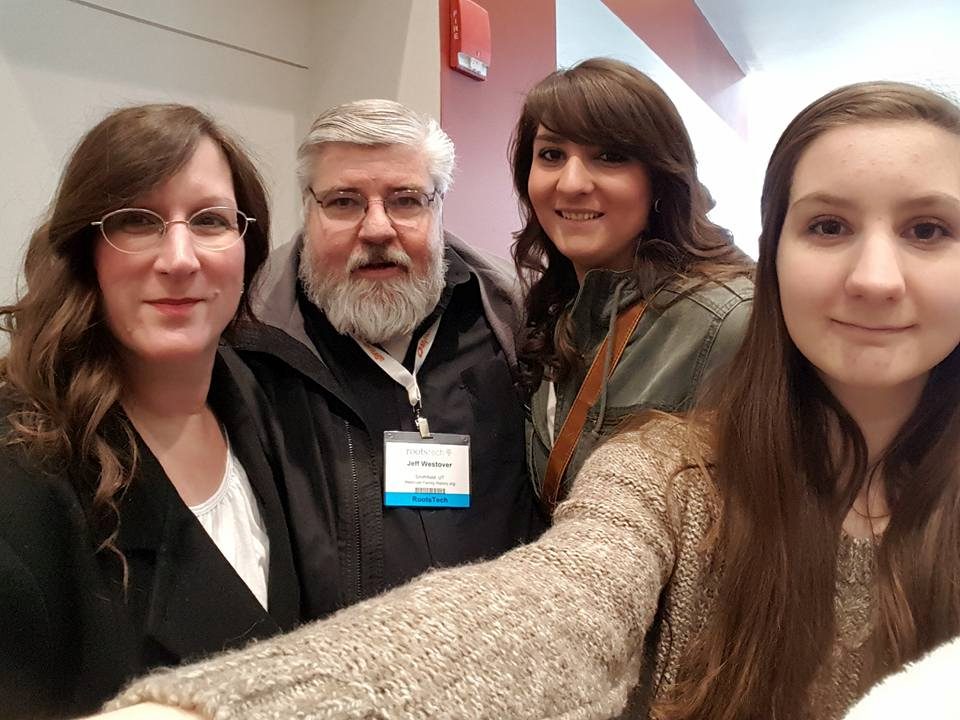 The final day of Rootstech is known as Family Discovery Day — a day when the Church sponsors the event for youth and families. I was able to get two of my daughters to come for a visit.
The effort is obvious. The more we engage our youth in family history they more inclined they are explore it on their own. There were a variety of activities set up, my favorite being a booth where the kids could call a grandparent or other loved one to hear a story. Here is my daughter Allie hearing a famous story from my Dad:
The preservation of stories — even simple goofy stories like this one — helps to connect our generations. In fact, the telling and the re-telling of stories was the constant theme of the entire conference. That is one of the more powerful ways that family history touches the hearts of every generation.
We also got to hear a presentation from Elder Renlund of the Quorum of the Twelve who told us that engaging in the work of family history would give us the promise of protection in these Latter-days:
"Brothers and sisters, I promise you protection for you and your family as you take this challenge, to 'find as many names to take to the temple as ordinances you perform in the temple, and teach others to do the same.'"
How does this happen? Elder Renlund and his family gave an entire presentation, which is summarized at this link.
But for me the protection that comes from doing family history is achieved by recognizing how it connects to nearly every aspect of the gospel of Jesus Christ.
In all my studies of Christ family is squarely in the middle of it. He taught of love and being like His Father. The scriptures, which at the end of the day end up being nothing more than the history of families, continually emphasize the idea of being perfect. The Prophet Joseph taught that when Christ said "Be ye therefore perfect" a more correct translation of the word "perfect" would have been "complete".
That changes the whole phrase — "be ye therefore complete" — can you indeed be complete without your family?
For me, doing family history is gospel living. It allows the life lessons of those we love from the past to be shared with us. We gain from them their wisdom as we come to recognize their trials and challenges in their efforts to build a better life for us.
My experience last year of running into the man in the wheelchair remains a pivotal moment in my family history experience. Like last year, I heard at Rootstech this year the testimony of the unbaptized and the unconverted of doing family history. They cannot fully explain their drive or desire to do the work.
But they do it.
As members of the Church, we have some context for that. And I'm grateful for that knowledge.
I may not yet have my children fully engaged in this work — or even have captured that vision entirely for other members of our family. I feel sad they don't have this element in their lives and not just for safety's sake alone. There is a level of happiness that comes from doing this work that would bless the life of anyone.
We will press on. Hopefully in time others in the family will come to grow in awareness of the treasure that this work is.
(Visited 129 times, 1 visits today)
https://westoverfamilyhistory.org/wp-content/uploads/2016/02/rootstech16.jpg
720
960
Jeff Westover
https://westoverfamilyhistory.org/wp-content/uploads/2022/04/logo22.png
Jeff Westover
2016-02-08 04:43:57
2016-02-08 04:48:51
Chuckin' Chickens