Henry Wadsworth Longfellow is a direct descendent of John Alden, as are all of us Westovers through the Smith line. That makes us cousins (along with several million other people).
We are even more closely related through Edward Griswold, who was Longfellow's sixth great grandfather. Edward Griswold was Jonah Westover's father-in-law.
Longfellow's family tree is a good example of how inter-related we all are. We have written before of Longfellow's use of family history – this about Edward Griswold and this about John Alden and Priscilla Mullins. In our exploration of family in crisis we look now at the personal life and a period of crisis for Henry Wadsworth Longfellow.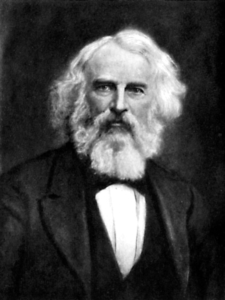 I'm always hesitant to write about this history of someone related who is famous. After all, there is already so much out there about such people.
My interest in Henry Wadsworth Longfellow does not come from the fact he was famous. It comes from the fact that he was human.
Longfellow was born in 1807. His was a very privileged background. He father was a prominent lawyer and his grandfather was a famed general in the Revolutionary War and also a member of Congress. Longfellow's family was well established in New England and he is descended from several pilgrims from The Mayflower.
At age 15 he enrolled in Bowdoin College, an institution founded by his grandfather. His father was also a trustee of the college. He graduated 4th in his class and after the encouragement of one of his professors saw his growing collection of poetry published. After college in 1825 he traveled to Europe learning French, Spanish, Portuguese and German.
Upon his return from Europe he married Mary Storer Potter and then returned to Bowdoin to teach. He published his first book during these years and decided on a 2nd European tour in 1835. While on that tour his wife died due to complications from a miscarriage – throwing Longfellow's personal life into chaos. He remained for a grief-stricken year in Europe before returning to teach at Harvard in 1836.
In time Longfellow began to court the daughter of a famous Boston industrialist. He fell madly in love with her. Sadly, Fanny Appleton wasn't interested in marriage and rebuffed him.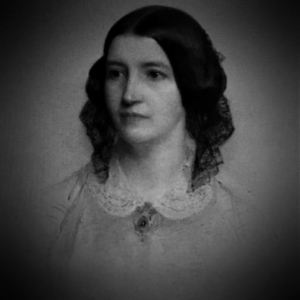 Longfellow persisted but it took a long time. In 1839 Longfellow published the sentimental prose romance Hyperion and his first volume of poetry, Voices of the Night. In Hyperion he rather indiscreetly (lacking sound judgment) told the story of his courtship. He wrote to a friend in 1839, "Victory hangs doubtful. The lady says she will not! I say she shall! It is not pride, but the madness of passion".
On May 10, 1843, after seven years, Longfellow received a letter from Fanny Appleton agreeing to marry him. He was too restless to take a carriage and walked 90 minutes to meet her at her house.
Over the years of marriage they enjoyed a deep relationship and brought six children into the world.
In 1847, Longfellow published Evangeline, a book-length poem about what would now be called "ethnic cleansing." The poem takes place as the British drive the French from Nova Scotia, and two lovers are parted, only to find each other years later when the man is about to die.
In 1854, Longfellow decided to quit teaching to devote all his time to poetry. He published The Song of Hiawatha, a long poem about Native American life, and The Courtship of Miles Standish and Other Poems. Both books were immensely successful, but Longfellow was now preoccupied with national events. With the country moving toward civil war, he wrote "Paul Revere's Ride," a call for courage in the coming conflict.
A few months before the Civil War began Fanny Longfellow was sealing an envelope with hot wax and her dress caught fire. Henry Longfellow himself suffered severe burns in his attempts to save her. The following day Fanny died. Longfellow was so injured from the event that he could not even attend her funeral.
Longfellow was thrown into the depths of depression with Fanny's passing. He occasionally took laudanum and ether to deal with his pain and worried that he would go insane, noting that he was "inwardly bleeding to death". Longfellow stopped shaving due to the scars on his face and grew out the full beard by which he is so closely identified in history.
The war brought even more tragedy to Longfellow. Longfellow's son Charley ran off at the age of 16 to join the fighting. Charley knew his father disapproved, but went anyway. He wrote a letter to his father saying, "I have tried to resist the temptation of going without your leave but cannot any longer."
Twice during the war Henry was called to Washington to care for his son — once because of illness and once due to injury.
That injury to Charley was severe. It happened in November 1863 and the next month Longfellow wrote the poem "Christmas Bells":
I heard the bells on Christmas Day
Their old, familiar carols play,
and wild and sweet
The words repeat
Of peace on earth, good-will to men!
And thought how, as the day had come,
The belfries of all Christendom
Had rolled along
The unbroken song
Of peace on earth, good-will to men!
Till ringing, singing on its way,
The world revolved from night to day,
A voice, a chime,
A chant sublime
Of peace on earth, good-will to men!
Longfellow doubted the message of the bells though. How could they sing of good will to men when thousands were violently dying within his beloved country? How could they sing of peace on earth while his own son was a casualty of a devastating war?
Then from each black, accursed mouth
The cannon thundered in the South,
And with the sound
The carols drowned
Of peace on earth, good-will to men!
It was as if an earthquake rent
The hearth-stones of a continent,
And made forlorn
The households born
Of peace on earth, good-will to men!
And in despair I bowed my head;
"There is no peace on earth," I said;
"For hate is strong,
And mocks the song
Of peace on earth, good-will to men!"
However, Longfellow recognized the hope that exists even during times of desperation and hopelessness. He concluded with the truth that the right will always triumph over the wrong:
Then pealed the bells more loud and deep:
"God is not dead, nor doth He sleep;
The Wrong shall fail,
The Right prevail,
With peace on earth, good-will to men."
Of course, we all recognize those words now as the hymn "I Heard the Bells on Christmas Day".
But I love them more now because of what they reveal about the father who was Henry Wadsworth Longfellow.
Longfellow was in crisis during the Civil War. He made no secret of it. He poured himself – and his grief and his anxiety – into his work. What he left behind is a showcase of his heart.
There are further insights to be gained into Longfellow by looking at the lives of his children. His son Charley, in particular, is a fascinating character.
Charley survived his injuries from the war. He turned out to be something of a 19th century rebel-of-a-different sort. In fact, from the beginning, his mother pegged Charley as "destined to be a man of action".
Charley wanted to return to the war and to the army but was discharged "due to disabilities gained in battle". Charley was none too happy with that assessment. It is more likely that Henry Longfellow used his influence to get his son discharged in order to keep him safe.
Charley responded by becoming a world traveler for several decades. But unlike his father, Charley sought high adventure in his travels. His journals are riddled with grammatical errors and tales of discoveries in far-away lands.
Before long Charley found himself in Japan and covered in tattoos. Featuring a nipples to belly-button sized Buddha on his front, and an intricate carp on his back, Charley had transformed himself from Victorian socialite into a 19th century free spirit.
Some see this transformation as a souvenir of his travels, but for Charley these markings allowed him to live in Asia as a true inhabitant and not a tourist. Like his father, Charley was prone to go his own way and feel deeply about what was before him.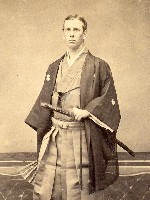 Japan held a particular fascination for Charley, and he lived in the Tokyo area for almost two years, regaling friends in a remodeled samurai dwelling and enjoying local diversions such as kabuki.
He was part of an exploratory expedition through the interior of Hokkaido and Honshu that was organized by the American consul. Letters home to Cambridge indicate Charley accomplished this feat with stamina and courage, along with his ever-present sense of humor. The furniture, works of art, porcelain, textiles and books he sent back to the family residence in Boston were early contributions to what became a "Japan Craze" in the United States.
What Henry Longfellow thought of his son's life choices does not appear to be known. Henry died in 1882 and Charley not many years later in 1893.
Said Longfellow, "Believe me, every man has his secret sorrows, which the world knows not; and oftimes we call a man cold when he is only sad."
Longfellow seems to have been a very devoted family man, caring for his children well into their adult years. Over the course of his literary career his work featured both his feelings and the physical descriptions of his children. There is an unmistakable connection between the realities of his children and family life and the creativity of his written works.
The poetry of Longfellow was wildly popular in his day. It was so popular that it made Longfellow wealthy and famous.
It was so popular that critics first applauded and then raged over his success.
They called his work a "goody two-shoes kind of literature … slipshod, sentimental stories told in the style of the nursery, beginning in nothing and ending in nothing".
Longfellow, as deep feeling as he was, maintained an awareness of his critics. "The talent of success is nothing more than doing what you can do well, and doing well whatever you do without thought of fame. If it comes at all it will come because it is deserved, not because it is sought after."
Many of his works helped shape the American character and its legacy, particularly with the poem "Paul Revere's Ride".
He was such an admired figure in the United States during his life that his 70th birthday in 1877 took on the air of a national holiday, with parades, speeches, and the reading of his poetry.
The more of Longfellow I read the more I like him. "The purpose of that apple tree is to grow a little new wood each year. That is what I plan to do." Longfellow said.
If there is sadness to be found in the history of Henry Wadsworth Longfellow now it is found in his profile on FamilySearch.org. While his temple work is done his history there is bare.
There are no pictures, no family records or journals, and no connection to family who came after. They don't even have all of his children listed.
That leaves his history – real history – to the Internet and the writers at universities. To me, that's a continuation of the tragedies in his life. I believe there is a greater, more personal story to be had of this great family than what the history books share.
I am hoping in time that we can connect with some of his direct descendants. I am hoping there is more to the story of this very passionate and heart-bearing cousin.
Until then we can lean on the lessons of his tragedies and the beauty of his expressions.
(Visited 528 times, 1 visits today)