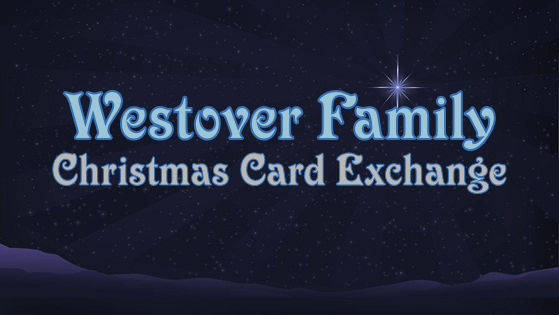 Christmas! Yes, I'm going there. I know it's only August. But I tried to set up a family Christmas card exchange last year and failed spectacularly.
I think I got it up too late and didn't put enough push behind it. This year I vow to do better.
So, here's the deal: the Westover Family Christmas Card Exchange is opened to all registered users of the site. But to participate in the exchange you will need to sign up.
I'm not expecting huge numbers. But I am hoping enough of us sign up that we get a good little exchange going. My goal, of course, is to connect as many of us together as possible. I believe good family history comes from sharing and we cannot share if we cannot connect.
If there is one powerful lesson I've picked up in the course of this year it has been the importance of connecting with family wherever and whenever we can. One cannot go to every reunion or visit far-flung family very often. But we can all afford to send a merry greeting with a stamp — and maybe share a little bit about ourselves in the process.
Those who know me know I'm something of a Christmas freak. I have managed for the past 27 years a Christmas website known as mymerrychristmas.com. One of our beloved events at that site is an international Christmas card exchange. It is, far and away, the most popular event on the site. Everyday from Thanksgiving to Christmas I receive dozens of cards from my friends made there who just happen to come from all over the world.
The cards add a lot to our home. And it makes me one of the more mysterious people on our mailman's route.
I don't have any aspirations to make the card exchange we do here near as big as what happens at mymerrychristmas. But I know the value and the power of this simple tradition and I know it will add great cheer to your home to have greetings arrive from as many family members as we can get to participate.
So sign up. I will collect the list information between now and Thanksgiving, then I will distribute that list to participants on the Sunday after Thanksgiving.
Bear in mind that you need to be a registered family member to sign up. That means you need to login below to access the sign up page.
If you cannot recall your password to this site, go here.
If you cannot remember your username, click here.
If you are lost and just can't figure it out, just contact me.
One way or the other, if you're family and you want to be on this list, we'll make it happen.
I hope you join us in this fun little event.
(Visited 307 times, 1 visits today)
https://westoverfamilyhistory.org/wp-content/uploads/2018/08/famex3.png
315
559
Jeff Westover
https://westoverfamilyhistory.org/wp-content/uploads/2022/04/logo22.png
Jeff Westover
2018-08-04 02:00:32
2018-08-04 02:15:36
Join the Westover Family Christmas Card Exchange