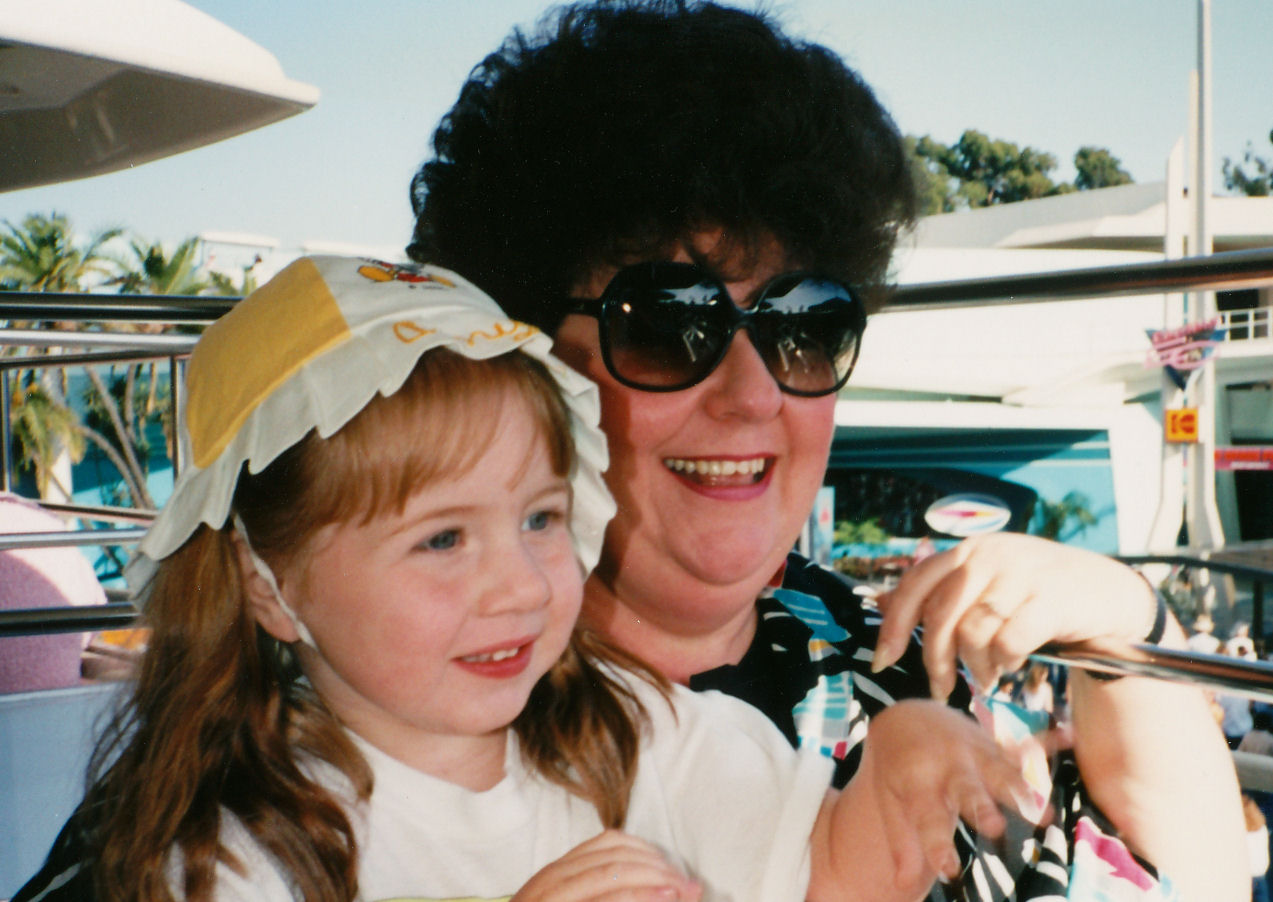 -the most extensive and colorful collection of mumu's I've ever seen. I think she had a different mumu on every time I saw her.
-QVC 24/7, they were always delivering something to the house and every present we ever received was wrapped in a QVC box.
-presents from Nana were always the hardest to open, because she used what seemed like an entire roll of tape on each present, and you never knew if you were going to receive an empty box or not
-her eyes always sparkled when she smiled
-she made the best fudge hands down! Her recipe will be passed down forever
-a love for all things lace, rhinestone, pearls and frilly. Every photo album and scrap book I ever got from her was covered in lace or some sort of floral fabric with pearls.
-the most beautiful handwriting I've ever seen, I wish I could have her penmanship.
-when you and mom were on one of your trips nana watched us and I got the flu. She put me in a pair of the itchiest, hot pj's and tucked me in so tight into bed I couldn't move. She told me the best way to get rid of a fever was to sweat it out.
-whenever she would say something inappropriate she would just say the words just fall out of her face.
-that Christmas that she got us nothing but gemstones and books about jewelry because she wanted us to appreciate pretty things. She was always teaching us about new subjects.
-she could draw anything! We could request anything from her and she could do it, no hesitation.
-having to call her to get permission to cut my hair short for the first time. She always told me how much she loved my hair.
-when she went with mom and I to buy my senior prom dress. Somehow she managed to get my tomboy self to fall in love with the poofiest fancy dress in the store. I will always think of Nana when I see pictures of that dress.
(Visited 86 times, 1 visits today)
https://westoverfamilyhistory.org/wp-content/uploads/2015/04/189.jpg
902
1273
Amy Sorensen
https://westoverfamilyhistory.org/wp-content/uploads/2022/04/logo22.png
Amy Sorensen
2015-04-10 08:09:21
2015-04-10 08:11:50
Nana Memories