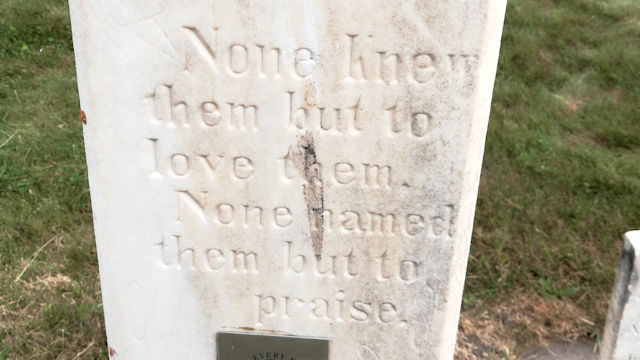 The generation of my grandparents is rightfully known as The Greatest Generation.
They have been so identified because of their sacrifices and contributions during the years of the Great Depression and World War II.
We likewise are free with our praise of the Pioneer Generation, those pre-and-post Civil War era ancestors who conquered the West
We marvel as well over the Generation of Emigrants who crossed oceans and continents around the turn of the 20th century.
In greater measure, we identify our Pilgrim and Puritan ancestors of the Great Migration generations of the 1600s.
But as I continue to work family history it occurs to me that there was a generation just as great as all these yet they seem to escape any recognition. I have come to call them the Unheralded Generation.
This is the generation of ancestors born from roughly 1790 to 1810, or so – the children and grandchildren of early colonists of the American Revolution.
We just don't give them the credit they deserve.
This thought came to me as I pondered over the graves of ancestors this week in Mendon, Utah.
There, between the tiny markers for William and Linzey Findley, is a monument erected in their honor by the Daughters of Utah Pioneers.
The monument clearly says "None knew them but to love them. None named them but to praise."
Curious, I began to poke around looking for where those words came from. I wanted to know why these words are assigned to a marker to these 5th great-grandparents of mine.
The all-knowing Google could only point me in the direction of an obscure 19th century America poet by the name of Fitz-Greene Halleck.
Halleck was something of a mover and shaker in early American publishing circles in New York. He rubbed shoulders with the likes of Washington Irving and Edgar Allen Poe.
A New York Times article described his poetic works as "ranging from the incomprehensible to the awful". Yet there Halleck is, immortalized on the great Literary Walk of Central Park with William Shakespeare, Walter Scott and Robert Burns.
His one claim to poetic greatness comes from a work he penned for another poet, Joseph Rodman Drake, when Drake died. This poem made Halleck's name widely known in the 19th century:
Green be the turf above thee,
Friend of my better days!
None knew thee but to love thee,
Nor named thee but to praise.
Tears fell, when thou wert dying,
From eyes unused to weep,
And long where thou art lying,
Will tears the cold turf steep.
When hearts, who truth was proven,
Like thine, are laid in earth,
There should a wreath be woven
To tell the world their worth;
And I, who woke each morrow
To clasp thy hand in mine,
Who shared thy joy and sorrow,
Whose weal and woe were thine.
It should be mine to braid it,
Around thy faded brow,
But I've in vain essayed it,
And feel I can not now.
While memory bids me weep thee,
Nor thoughts nor words are free,
The grief is fixed too deeply
That mourns a man like thee.
I have pondered all week why the Daughters of Utah Pioneers would put those words on that monument above the graves of the Findleys.
I have shared the history of the Findleys before in telling the story of Ann Westover, her brother William, Jr. and his wife, Sarah.
But I've not said much about their parents, William Sr. and Linzey, because there is honestly little known there to share.
I have a feeling it is the story of a great love between two people. It is clearly a story of tremendous sacrifice. And it is certainly a story that has never been told nor rightfully recognized.
William Sr. was a Scot, a coal miner and quite nearly an old man when he pushed the family handcart with Linzey and Ann to Utah in 1856.
He was 47 years old that year and he would spend the last 30 years of his life toiling on the farm in Mendon in obscurity.
The town of Mendon has a plaque honoring the founding families of the city near the town square and the Findley name is on it. But that is a reference to William Findley Jr, who came to Mendon in 1859 and claimed some of the best farm land there to be found.
It was William Findley Jr who was well known in the community. He was the one with the impressive team of 12 champion horses. It was William Jr who on the High Council. It was William Jr. the journals of visiting Church authorities would mention as a leader in the Mendon Ward.
William Sr. and Linzey settled next door to William Jr. and Sarah.
When William Jr. unexpectedly died in 1869 it was William Sr. who sent for daughter Ann.
We know William Sr. was faithful. He appears on the records of the Mendon Ward in various activities all the way until about a month or so before his passing in 1887.
When Ann received her patriarchal blessing it was mentioned that William Sr. had just previously given Ann a father's blessing, and was standing in with the Patriarch as Ann received her patriarchal blessing.
There can be no doubt of how close Ann Westover was to her parents. She named her first son William.
When she came to Mendon it was to help William, Jr.'s widow – Sarah, and her children – but she lived in the home and on the farm of her parents next door.
Their place, in time, became "Sister Westover's house", where the school children would pass each day and stop for cookies and storytelling.
Throughout all this drama the steady influence and presence of William Sr. and Linzey is evident – but never mentioned.
We know that Linzey was a beloved Matriarch. Generations of granddaughters after her carry her name. We know the little iron that Sarah carried beneath her skirts across the plains has been passed down in the decades since only to daughters named Lindsay.
Yet no stories or known written history of William, Sr. and Linzey Findley exist.
"None named thee but to praise", indeed.
These honored and beloved pioneers are not the only ones of their generation whose true stories are not really known.
Alexander Westover – Edwin's father – is practically unknown as a man. His wife, Electa, we have a little more about but she too lived a life of incredible loneliness and sacrifice.
David Rowe and his wife, Hannah – grandparents to Ruth Althea Rowe Westover – were of this generation as well.
Their son William's stories of service in the Mormon Battalion and great spiritual experiences are documented well. But the stories of conversion and sacrifice for David and Hannah are not known or remembered.
Levi Murdock, and his wife Elizabeth, are significant figures in the settlement of the north Ogden area of Utah. But they were considered among the oldest and wisest of Mormon pioneer families yet they left behind no family records, relying on their history to be recorded in the journals of others.
David Smith and his companion, Deborah Alden – parents to Albert Smith, are better remembered not for their own history but for their distant heritage among the pilgrim and puritan settlers of New England.
Grandma Sophie's parents – Johan Frederick and Sophie Catrine – have no known history. Perhaps all the records from Denmark are yet to be found.
From the Humble side of the family we do know a little more of those of this generation. George and Mary Ann came over from England in about 1850. But while we know their travels a lot more could be known of their story.
We do have a few from this generation whose stories we know.
Notably we know the stories of Gardner Snow, Horace Roberts and of Elam Cheney. These are all notable characters in early LDS history. But without outside record keeping from Church events we might not know anything about them at all.
I think of this generation as unheralded because they were truly the first to push westward. They may have first settled in places like Indiana, Ohio and Illinois before pressing forward towards Utah but they aren't celebrated for that.
They were, if truth be told, pioneers to many of those WE consider to be pioneers.
So I find the DUP marker between William and Linzey in Mendon to be quite appropriate in its sentiment.
But I hope to one day make that sentiment obsolete. Their story should be discovered, shared and celebrated. They were, by all evidence, greatly devoted to family and grandparents I would be proud to know.
(Visited 114 times, 1 visits today)
https://westoverfamilyhistory.org/wp-content/uploads/2018/06/knewthem.jpg
360
640
Jeff Westover
https://westoverfamilyhistory.org/wp-content/uploads/2022/04/logo22.png
Jeff Westover
2018-06-02 15:42:53
2018-06-02 15:44:39
None Knew Them But to Praise