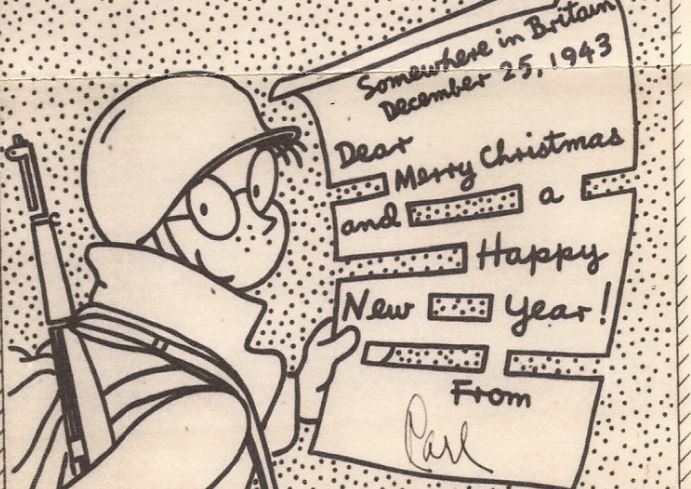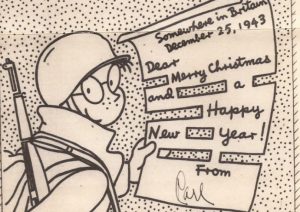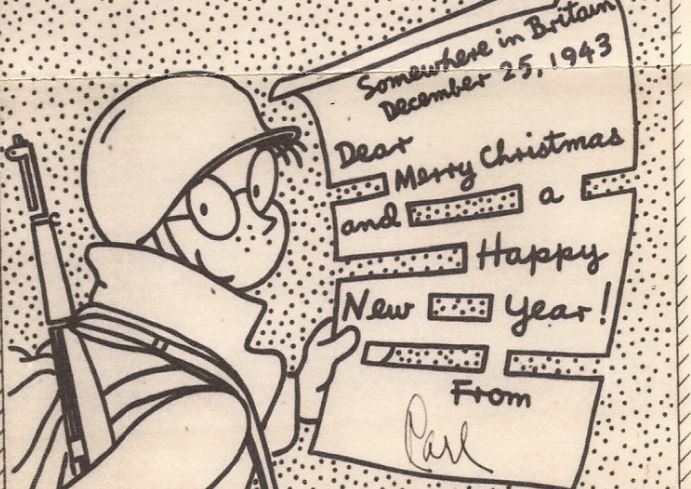 As the holiday season approaches I cannot help but think with great appreciation how much more significant Christmas and Thanksgiving are to me thanks what I have learned of our family history.
I am especially grateful for those who left behind little memories of what these special days meant to them.
The image above was taken from the war letters of my Grandpa Carl, whose letters came home full of holes, much as the illustration shows. It was reflective of the times and his situation. But it was clearly important to him that he send his love though greetings home – and he sent lots of them.
I'm so grateful they survive to read now.
I have as well in my possession a few Christmas cards sent to me by my grandparents. I have many Christmas letters with poetry from Aunt Evie (treasures!). I cherish the Christmas video of my grandmother, and I really love this conversation between Grandma and Aunt Aldyth…
I am also so much more interested in the real meaning of Thanksgiving. I know now of our Puritan ancestors and how their frequent Thanksgivings were a call to family prayer.
I cannot say for certain what Christmas was like for our 19th century pioneer families. But I'm fairly certain that Grandma Electa Beal Westover was in the choir in St. George when Far, Far Away on Judea's Plain was first performed in the then-new St. George Tabernacle. (You do know that story, don't you?)
Wouldn't it be neat to leave our grandchildren and great, great, great grandchildren something of the holidays from our generation?
That is the great hope in establishing the Westover Family Christmas Card Exchange.
Since announcing this last summer we have garnered a total of seven Westover family members who have signed up. But I'm hoping this little nudge will encourage more of you to sign-up and participate.
You see, I'm going to save every Christmas card from family this year and I'm going to call it historic. These were the brave souls – this Christmas card class of 2018 – that
started an enduring and great tradition.
Who are those seven brave souls? You'll have to sign up to find out.
The list goes out on National Family History Day – ironically known as Thanksgiving Day – and those who sign up make history (and have a little fun).
(Visited 199 times, 1 visits today)
https://westoverfamilyhistory.org/wp-content/uploads/2018/11/xmasgreeting.jpg
489
691
Jeff Westover
https://westoverfamilyhistory.org/wp-content/uploads/2022/04/logo22.png
Jeff Westover
2018-11-08 22:30:04
2018-11-08 22:30:08
The History of Family Christmas Past