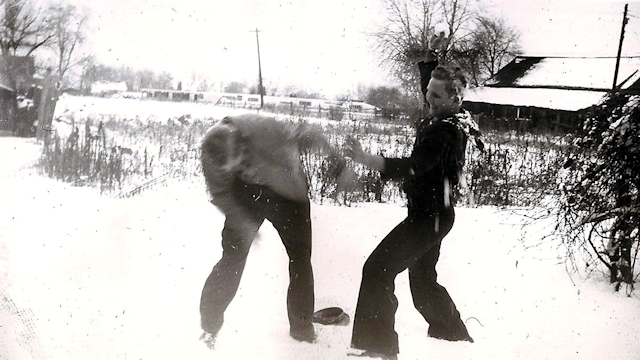 (Note: The best of family history comes from stories. It is a rich blessing to have stories come from others and the story below is a great example of that. Written by Carma Baldwin Carlson this story is a quick telling of a period of time in the lives of Leon and Darryl Westover. It is outstanding insight into both their relationship as brothers and in their characters as men.)
The original Concord, California ward was organized in the very early 1950s.
This ward was composed of a lot of young families just getting started in life with not a great deal of money, but lots of dreams and ambitions. The Westover brothers, Leon and wife Maureen, and his younger brother Darryl and wife Evie, were two such families.
These brothers and their wives (who were sisters) came from families that had a rich heritage of talented and dedicated teachers. Teaching was their profession but they were fortunate to have a father who was a carpenter, who taught his boys the carpenter's trade, in which they became quite proficient.
This new ward in Concord desperately needed a chapel in which to worship.
In those days each ward had to come up with the majority of the money to build their chapel, and the members of this fledgling ward had barely enough money to sustain their families. The Church's volunteer labor service came to their aid. The members would be the builders of the meeting house, their work hours were kept track of, and the equivalent of the going rate for their labor was counted toward the financial debt they owed on the building.
The Westover brothers were MAJOR contributors in time working to build the chapel, and their carpenter skills were a major aid in the construction process.
Leon and Darryl had a very tight family relationship, and their love and esteem were very evident. But they had very different ways of doing things.
There were quite a few times that they each had much different ways they wanted something done, and very heated discussions would ensue.
Now, in the work crew there was a volunteer, a young non-member who had just married an active LDS girl.
He wanted to make "points" with his lovely new bride, so he did a lot of helping in building this chapel. It was the first time he had been around Latter-Day-Saint men, and he watched their interactions with a lot of interest.
When he saw these two brothers heatedly discussing some of the building procedures he began to get rather concerned — afraid that they might come to blows and begin to hate each other.
Then he noted something happen that seemed strange to him. At the height of these disagreements they would suddenly stop, look at each other, then say: "It is time to take it to the Bishop."
So Bishop Markham was hunted up, the problem was explained to him, the Bishop thought about it, and a decision was made.
Then came the thing that amazed and baffled the young man.
The Westover brothers shook hands with the Bishop, gave each other a pat on the back or hug, went off and acted as if there had never been a disagreement.
They went right back to being their old good natured, fun loving brothers again. That was totally the end of it.
It got the young man to wonder, "What kind of people are these men?"
He credits the example of the Westover brothers as the catalyst which gave him the desire to learn about the Gospel and later join the Church.
(Visited 183 times, 1 visits today)
https://westoverfamilyhistory.org/wp-content/uploads/2019/03/brothers.png
360
640
Jeff Westover
https://westoverfamilyhistory.org/wp-content/uploads/2022/04/logo22.png
Jeff Westover
2019-03-24 09:55:10
2019-03-24 09:55:10
The Power of Example