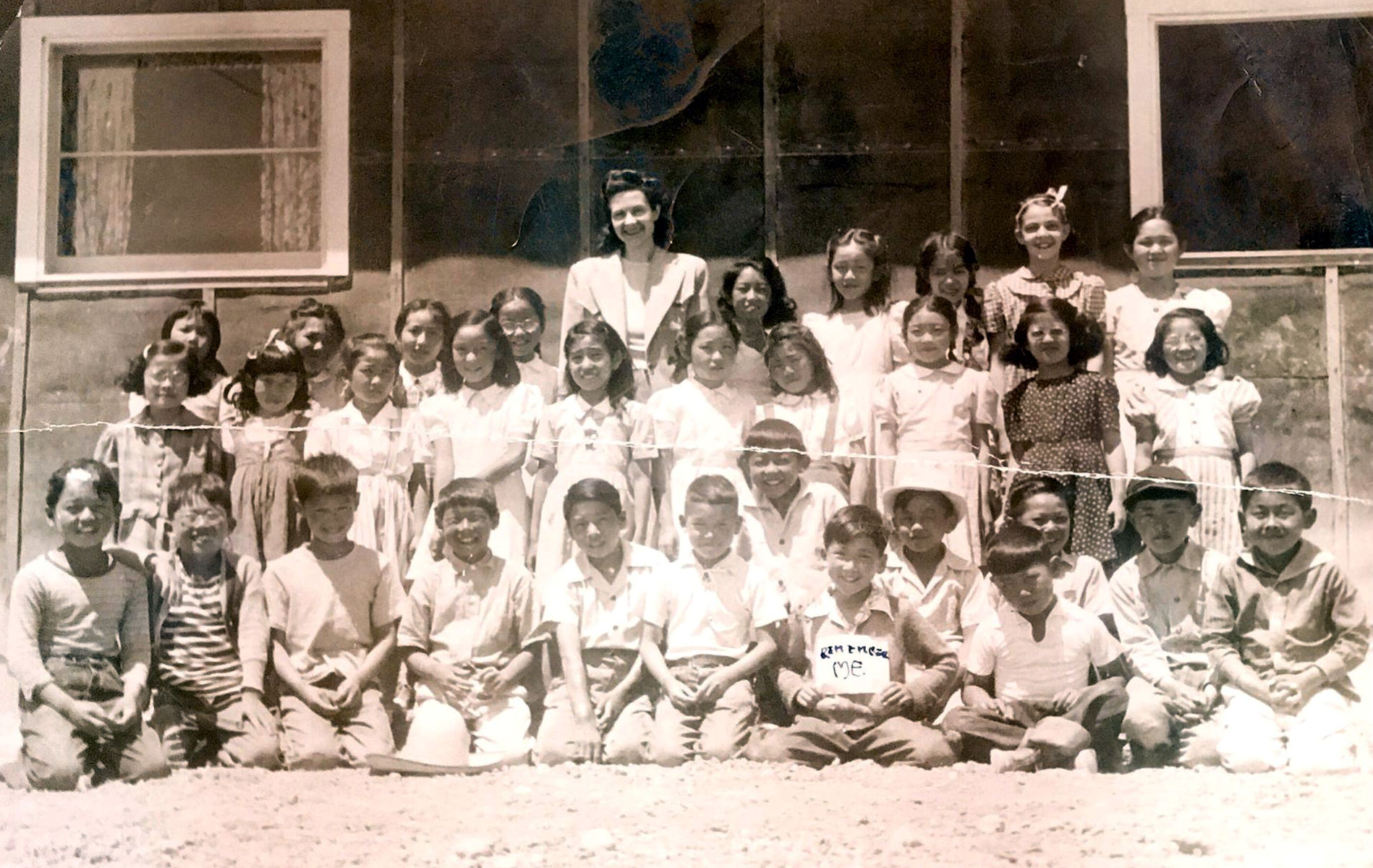 It has been a tough year for me with family history. Life and circumstance have kept me far from my goals. Much of the feeling of accomplishment I have experienced this year has come more from enjoying the successes of others. I have felt bad about that, almost as if I'm letting so many others down.
But as the months have turned I've been tempered in those feelings. The work of family history is not a race (yet) and it will forever be something that just needs work and love and time and attention.
Sometimes you seek out family history, and at other times it seeks you out.
That has been my blessing in so many ways this year.
Dad has asked me, and it has been our tradition here, to share Grandma's Christmas talk where she tells the story of a Christmas she spent as a schoolteacher in Topaz, Utah.
Here again is that video. I want you to watch it again, paying particular attention to her telling the story of Topaz. Then press on to read the rest of the story from just this year:
More than 20 years ago I wrote a story for one of my websites, MyMerryChristmas.com — it was the story Grandma tells in the video, or at least my best recollection of it.
It is a significant thing to me because I did not have access to the video above when I wrote the story.
I knew Dad had the video and I knew it was archived somewhere but I had not seen it in years and I wrote the story based on a long ago memory.
What I may not have recognized then, in those infant days of the Internet, was that story would be copied and used on other websites, most often without my knowledge or permission.
That is where a woman by the name of Amy Denison saw the story.
Here it is years later and she looked me up on Facebook and sent this message, asking if I was the same Jeff Westover who authored the story:
The reason I am asking is because my mom, June Takiuchi Middo, was in Topaz during the war. She was 8 years old when her family was interned. She always spoke highly of her "Mormon school teacher" who started a brownie troop for the girls. If Maurine Westover was your relative, could you please message me back. I have a photo of Mrs. Westover's class (which includes my mom) that I would love to share with you.
Of course, I was thrilled to receive her message.
I eagerly replied, affirming indeed that Maurine Westover is my grandmother, sending her a link to Grandma's video sharing her Topaz Christmas experience, just so she could see Grandma's countenance and share in her spirit.
She wrote back: My mom and her parents always spoke so highly of the LDS Church. They were very accepting when, 30 years ago, I took the missionary discussions and got baptized. The Church has been such a blessing in my life! My husband and I were sealed in the LA Temple 27 years ago. We have 3 children, two who have served missions, and our youngest son is preparing to serve a mission too. I know that your grandma, because she showed such love for the Japanese people, was planting seeds of faith that eventually led to my joining the Church.
Having a shared background in the Church I'm sure Sister Denison knew the thrill was providing for me — and now for you.
There are so many lessons from this.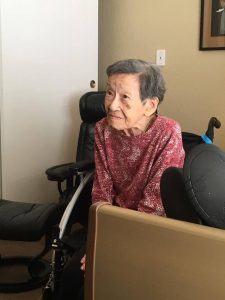 Her mother is still living, although she is quite elderly and suffers from advanced dementia.
Nevertheless, she shared a photo with me of her mother watching Grandma's video and seeing herself in the photo, too.
The Topaz years were a relatively short chapter in the lives of my grandparents. But those war years were so life changing for everyone of those generations and I cannot help but wonder the fuller story of Amy's grandparents and all they endured.
It is quite something to consider how time and circumstance threw people together then — and that those experiences still share space today.
Amy was also kind enough to share this photo of her mother with her parents, also taken while they were in Topaz: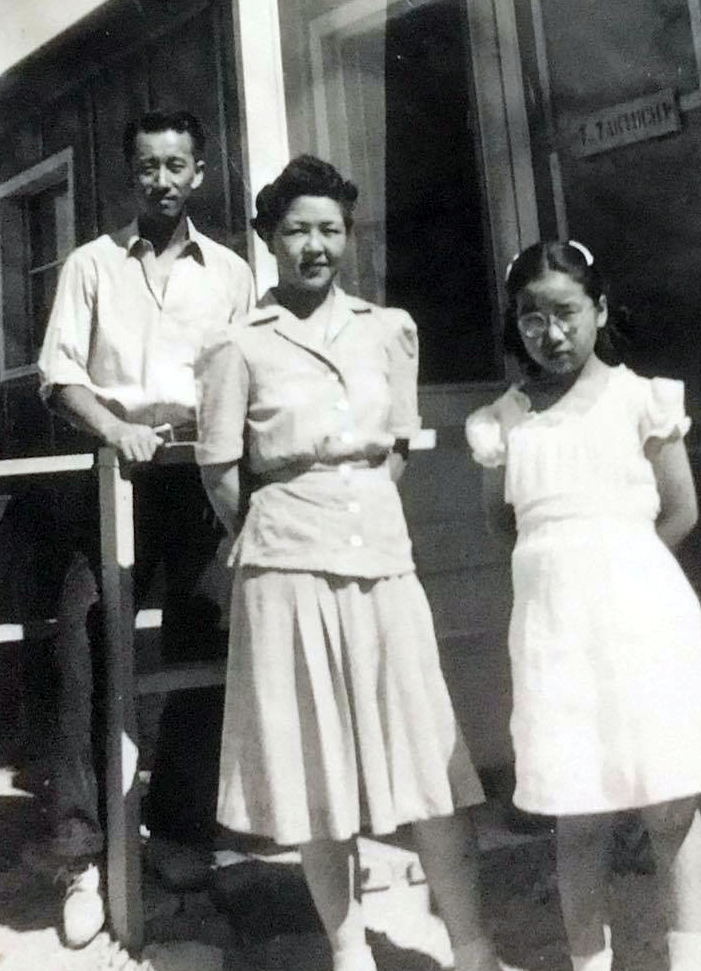 As I create a record of this blessed family history moment from 2017 I cannot help but ponder a bit the words of Clarence, from It's A Wonderful Life, to George Bailey — "Strange, isn't it? Each man's life touches so many other lives."
As I get older, I feel a bit frozen in time with Grandma. I was so very fortunate to know her when I was a child and as an adult. But in my mind she's exactly as you see her in the video above. Time has changed nothing about her.
I'm sure, wherever Grandma is, she remembers June Takiuchi Middo as the 8 year old child she is in the pictures, even though June is 84 years old today. Time and age make us all so temporary.
But love is permanent. There is no doubt, in my heart, that in a coming day there will be no age difference between Grandma and June when they reunite. There will be only love, because that was what was there so long ago.
What powerful lessons these are. I cannot imagine some 70+ years from now anyone contacting one of my grandchildren to share something about me. But if that by chance happens I can only hope that love would be my legacy, too, just as it has been for Grandma.
May God bless Amy Denison and her family. They have given me a most precious gift this year, one I will never forget.
(Visited 402 times, 1 visits today)
https://westoverfamilyhistory.org/wp-content/uploads/2017/12/grandma1943.jpg
1200
1898
Jeff Westover
https://westoverfamilyhistory.org/wp-content/uploads/2022/04/logo22.png
Jeff Westover
2017-12-17 14:50:56
2017-12-17 15:02:09
A Gift That Keeps Giving