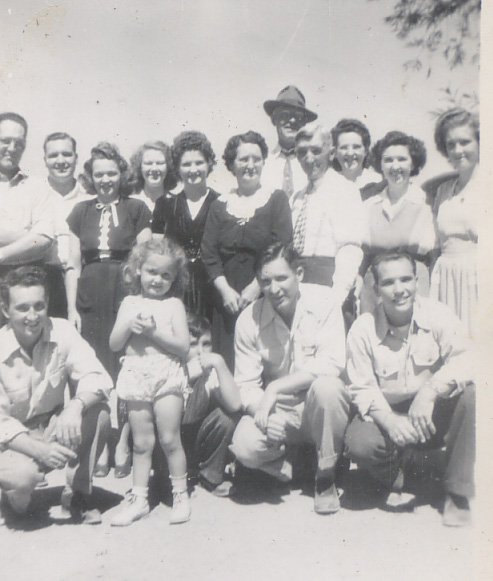 We are at that time of the year where we look both backward and forward.
As I contemplate our efforts here I feel a mixture of both pride and frustration. 2015 was a year when I finally did something new with my family history. We started this little website last January. We have created new content in an effort to reach other members of our family and they have responded. It is a good start.
But I'm frustrated at how life gets in the way of moving forward. For all that was accomplished last year there were areas where we missed our target. There remains a lot of work to do and not enough hands, time or resources to move the work along as quickly as it could.
So, as with so many other things in life at this time of the year, we have reached a point of reflection and resolution. We take inventory of what has been accomplished and make fresh plans for what we can do in the months ahead.
For me it starts with Roots Tech, which comes along the first week of February. I have reviewed the many classes and resources available at that event to try to grasp what is new and coming in Family History and to learn where I can learn this year in attending the event.
Just doing that rejuvenates me. But for as full of light as I feel in reviewing that material and for as much as I know what is in my head about our Family History and the work that must be done I want to refrain from saying much more and invite any of you out there to join me in setting some goals for 2016 for our family history and family temple work.
We should have individual pursuits. And we should have collective projects that better coordinate the overall family effort.
I want to pause for a week or so to give folks a chance to respond. I know we're all busy and we hesitate to commit to time for yet another important priority in life. What I'm asking for here isn't a large scale commitment — what I'm asking for is feedback.
What do we want to accomplish in 2016?
Already we have some ambitious plans. We are moving forward with a trip to New England next fall — a trip that will land between September 16th and October 8th — to visit places uncovered in our family history in Ohio, New York, Massachusetts and Connecticut. What will we find? What can we find? We just don't know yet.
But what else is there? What more can we do?
That's what I would like you to contemplate with me over the next week or so. By the time the calendar rolls over into the new year I'd like to list some comprehensive goals for 2016 for this site. And I do this because I want to be held accountable. A year from now I want to be able to see a record of what we set out to do and to account for whether or not we did it.
We want to share more, engage more, learn more and accomplish more. In my mind, some sort of temple connection must now be made. We must find a way to communicate a plan whereby needed temple work can be identified and some how passed out to the family members out there that can help accomplish it.
That is, after all, what this is all about.
But there is more. We need to learn new stories. We need to find ways to reach more family members and work to engage them with our ancestry.
Please share your thoughts and ideas. Again, I'm not asking for commitments. I'm asking for your ideas, thoughts and wishes as it relates to Family History.
Email me at jeff@westoverfamilyhistory.org this week. Let's set some goals for the new year together.
(Visited 49 times, 1 visits today)
https://westoverfamilyhistory.org/wp-content/uploads/2015/12/Westovers-at-the-Ranch-1945.jpg
581
493
Jeff Westover
https://westoverfamilyhistory.org/wp-content/uploads/2022/04/logo22.png
Jeff Westover
2015-12-28 07:06:13
2015-12-28 07:15:28
Family History in a New Year