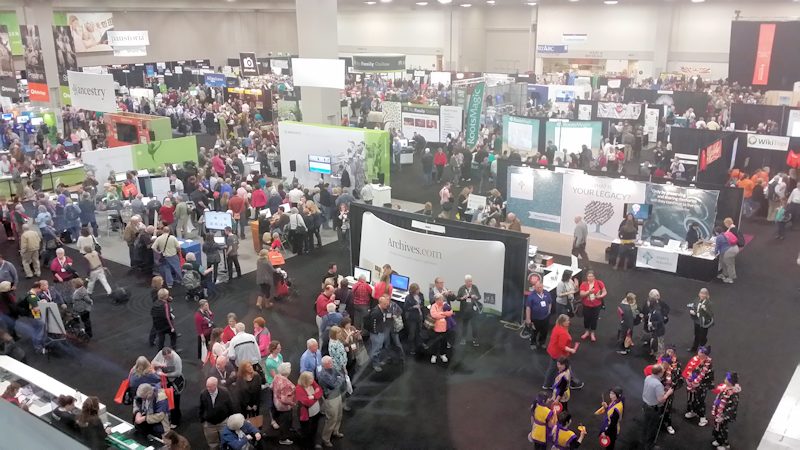 Just as I was leaving Rootstech on Saturday afternoon I ran into an elderly man in a wheelchair. He was clearly struggling and I stopped to see if he was okay. He was short of breath. I was certain he was having a heart attack.
The convention hall was packed as Saturday is Family Discovery Day at Rootstech. It was hectic and getting more so as the afternoon wore on. He looked up at me between wheezes and coughs and said, "What is it with all these kids?" I explained to him about the Church and the effort being made to engage younger generations in family history.
"Why would they be here?" he asked. "They're just kids and I doubt they get any of this."
I was not sure I wanted to engage with him but I wanted to make sure he was okay. Another guy had noticed him too and chased down some water for him and he seemed to calm down once we got him out of the flow of the crowded aisle. It has to be hard for someone in a wheelchair to be surrounded by a sea of taller, walking people all rushing to mixed destinations. I wondered why the man was there alone.
So I asked him, "Well, why are YOU here? Do you have anyone with you?"
He said he came alone and he kind of chuckled at my question. "I ask myself all the time why I am doing this," he admitted. "I honestly don't know. I've worked on genealogy for 40 years and I have gone about as far as I can go. But something keeps pushing me to do it."
Now it was my turn to chuckle. I explained the same something he was feeling was what those kids were feeling. "How can they possibly feel anything? They are so young. You Mormons are more of a mystery to me everyday."
I asked him what he knew of Mormon doctrine and he immediately begged off. "Don't try to convert me, I'm not buying it." After assuring him that I was only trying to explain what he was seeing he agreed to let me briefly explain. "Mormons believe that God intends all of his children will at one time or another have an opportunity to embrace His truth. When and if they do, they need necessary ordinances such as baptism, as any Christian would need…" At this the man nodded his head.
I continued: "We believe that we can do these ordinances such as baptism for them in our temples, in their names. In time they will be given the opportunity to accept those ordinances just as they are given the opportunity to hear and accept the Gospel of Jesus Christ. And in order to do that, we have to know their names. That's why we do this. And we learn, just like you, the more we work on this the more compelled we are to find them."
He stared at me for a second and I could see tears forming in his eyes. "That's the most loving thing I have ever heard," he said.
His attitude — his feeling of urgency and the need to just do it — permeated Rootstech. I've attended more than my share of trade shows and conventions in my time. This one was entirely different. There was little huckstering. There was zero sleeve factor. There were no blaring speakers with thumping music. But there was a buzz — an energy — unlike any other show I had ever been to.
Rootstech is the largest genealogy and family history conference in the world. It is only five years old. This was my first year attending. I have wanted to attend for a couple of years now but cost has been a factor, even though I'm fairly local to the event. My brother bought my pass for me as a Christmas gift and I was more than happy to take time off of work to attend. It won't be my last time.
Several themes jumped out at me from the many speeches and classes I attended.
Foremost is the question: how do we get more people engaged in family history?
This is not entirely driven by sales and money — although there are folks there clearly in this for profit. What drives it more, I think, is that it is clear to nearly everyone that the more genealogy and history is shared the more complete it becomes.
Family Search is the Google and the Apple of the family history world. They are the center of the genealogy universe. Powered by the Church, it makes no secret of its aims to create one world family tree. Those of us who are members of the Church fully understand why this is so. But even still, we have been slow to embrace the idea of an open edit resource like Family Tree at Family Search.
But anyone who has been paying attention knows that the resource is getting better and better. As more and more sources pile up on an individual record at Family Search the more stable that open edit environment becomes. Instead of a competitive like sandbox where people come to play Family Search is becoming a resource that everyone really respects — and wants to please. I saw plenty of vendors there clamoring for the endorsement and approval of Family Search.
And Family Search led out on the discussion of engaging more people. It was a theme repeated over and over and over.
I was pleased as well to see the emotional side of family history acknowledged. Like my friend in the wheelchair there were choked throats and moist eyes as presenters and even vendors shared their purposes and experiences. It seems it is common to everyone. From the keynote speakers who aren't LDS such as Laura Bush to those who are like Donny Osmond it seems that the ties of family and the work of history in families is one that is sacred ground to us all.
One of the more fascinating classes I attended broke down that emotional response to family history. Studies show that family history stabilizes children, heals wounded hearts, and directs future ambitions. Family history is a healthy endeavor that changes lives for the better.
Not every class was great. I was a bit frustrated with a class I attended about mobile tools and apps for genealogists. I felt there was too much selling going on and self-promotion from the presenter. That's going to happen.
And there are plenty of people at Rootstech selling stuff that really is not helpful or necessary — again, you're bound to get that any where a dollar can be made.
A lot of money can be dropped by joining websites and associations. The impulse is to join as much as you can. But I was tempered by two never changing realities for me: time and money. I am working on specific family lines at the moment. I don't need to join an association of Eastern European ancestry when I'm focusing more on New England. I have to stagger my allegiances and loyalties against my search priorities.
I joined just a couple of groups — NEHGS — The New England Historical and Genealogical Society — so that I could access their site at AmericanAncestors.com. I have not yet fully explored their site and I've got 14 months at a cost of about $100 to see if it bears fruit. The other site I joined at a cost of $60 was GenealogyBank.com, a resource that archives newspapers, military records, probate records and more dating back to 1609, they claim.
There were dozens more I wanted to join. But time limits my abilities and I have got to use those resources I think will help me most in the time I can devote to them. Maybe next year I can add to these resources.
The topic of computer tools and methods for remaining organized in my research was something of great interest to me. I'm a fairly advance computer user and I was looking for more complex tools. I didn't see much specific to family history that folks are using. Instead they embrace the tools of things like Evernote, Microsoft Excel, One Note, etc — which are all tools I'm already using. So Rootstech was kind of a bust in this area for me.
I likewise begged off on the expanded subscriptions from FindMyPast.com and MyHeritage.com, both huge players in the industry and well endorsed by Family Search. While they might have some good theory resources I just cannot afford them now for what I'm trying to accomplish.
There is a real shifting of the tides when it comes to sharing information. I really only saw one vendor there that promoted the "private" family history. Most seem to be embracing the idea of sharing data and making as much of it as possible available online. The whole crux of MyHeritage.com, for example, is social. You put up your family tree which then gets matched to other submitted family trees — kind of like a dating site for family history buffs. The intent is to fill holes in each other's trees, to swap information across the seas, and to connect distant relatives who may or may not even be aware of each other. There was a lot of buzz around that site but for the $150/year they wanted I felt best to just hold off for now.
I was quite pleased to see that many of the things we're trying to do via this website were endorsed and encouraged. I was given many new ideas which will hopefully be put to use in the months and years down the road.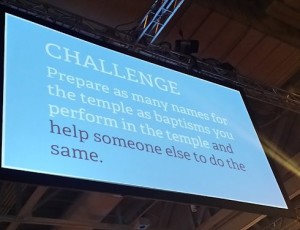 Like others there I was a bit leery of all the kids showing up for Family Discovery Day but I stayed for the presentations by Elder Andersen and others and really enjoyed it. He gave another temple challenge to the youth — to prepare as many names for the temple as baptism you perform in the temple — and help someone else do the same. I can think of no better activity for my children.
The conference was three days and there just wasn't time enough to see or hear everything. I did download all the syllabus information for every course at Rootstech and plan especially to revisit those of the classes I enjoyed and the classes I tried to get into but could not. They are all archived here.
I attended most of this with my sister in law, Mary, but also got a little time in with my wife, Sandy, and my brother, Jay. Next year I would like to get one of my kids, one of my cousins, and my wife to attend with me. It was a lot of fun and I think anyone serious about doing family history should plan to attend next year during the first week of February.
(Visited 43 times, 1 visits today)
https://westoverfamilyhistory.org/wp-content/uploads/2015/02/rootstech2015.jpg
450
800
Jeff Westover
https://westoverfamilyhistory.org/wp-content/uploads/2022/04/logo22.png
Jeff Westover
2015-02-16 11:10:57
2015-02-16 11:10:57
Rootstech 2015 Recap