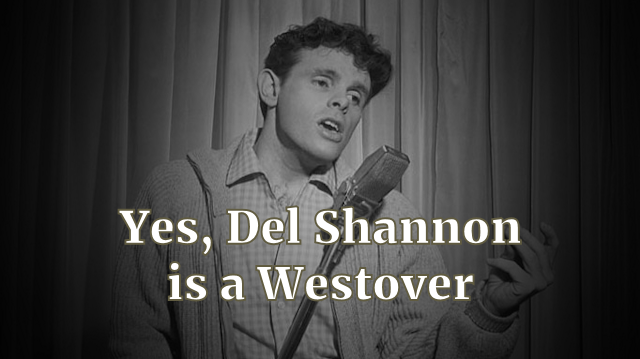 If you are of a certain age or just a fan of popular American music then you likely have heard the name Del Shannon. This was Shannon's first big hit in 1961:
Everyone knows the song. It was, after all, a #1 Billboard hit.
But did you know the Del Shannon is actually a Westover?
Over the course of the years since we launched this site I have been asked at least a dozen times how we might be related to Del Shannon, who was actually born as Charles Weedon Westover in 1934.
I have largely dismissed the question because it most often comes from outside the family.
Shannon was famous and still has millions of fans. Sometimes they come here seeking more information about him.
I am not really interested in exploiting Shannon's memory as an artist for the sake of family history, plus we are merely distant cousins at best.
But… when the question comes from within the family – and this time it has – I suppose the time has come to at least talk about it.
So here is the tale of how Del Shannon is actually a Westover:
If you have watched our video titled Brothers you should be familiar with the name John Westover, a grandson of Jonah Westover, Sr. from whom we all descend. This John Westover lived in Sheffield, Massachusetts where he was clerk of the local church and a prominent member of the community.
I focus on this John Westover a lot for three reasons: first, John and his wife Rachel had by far the largest family of their generation. Second, of their 12 children, 7 of them were boys – Levi, John, Job, Moses, William, Noah and Amos (our line comes through Amos). These men would do much to carry forward the Westover name in North America in many places.
Why? Well, that's the third reason: the sons of John and Rachel Westover with all the Biblical names came of age during the American Revolution.
After the war was over they set off in seemingly all directions to explore the frontier. Today their great grandchildren are all over the world, but mostly in the U.S. and especially in Canada.
John and Rachel's 2nd son, also named John, stayed in Sheffield, Massachusetts. All of his children with his wife Ruffus were born on the family homestead in Sheffield.
John, a farmer, and Ruffus, had seven children, the sixth born being a son named Issac.
Issac covered some ground during his life time.
When he was around the age of 24 he can be found in Connecticut where he married a woman named Polly Wales. Shortly after they married in 1798, they traveled to Quebec, where they more than likely found the beginnings of a new life near great uncle Moses Westover, who had fled to Canada after the war.
(Moses, along with brother Job, were loyalists. Even though they enlisted and served with a Colonial militia during the Revolution, opportunities in post-war Sheffield were not great for loyalists).
Anyway, Issac and Polly would have two children in Quebec before Polly passed away at the age of 23 in the year 1803. Two years later Issac would marry again, this time to a woman named Tamer Emma. Together they would have four children including a boy they named Charles Edward Westover.
Charles Edward Westover would wed a woman named Sabra Mindwell Gleason. While this couple met in New England they move their family to Haldimand Township in Ontario, Canada.
Together they had four children including a son they named Jonathan Gleason.
Jonathan Gleason Westover was a blacksmith in an area that would come to be known as Gleason's Corner. He and his wife, Jane Rae, eventually would take their family to Michigan and would have a son they named Jonathan Gleason Westover, Jr.
JGW Jr. was a merchant for many years in the community of Nunica, Michigan and with his wife, Edith, would have 6 children including a son they named Burt Leon Westover. Jonathan Gleason Westover, from the pictures at least, is the very image of a family man: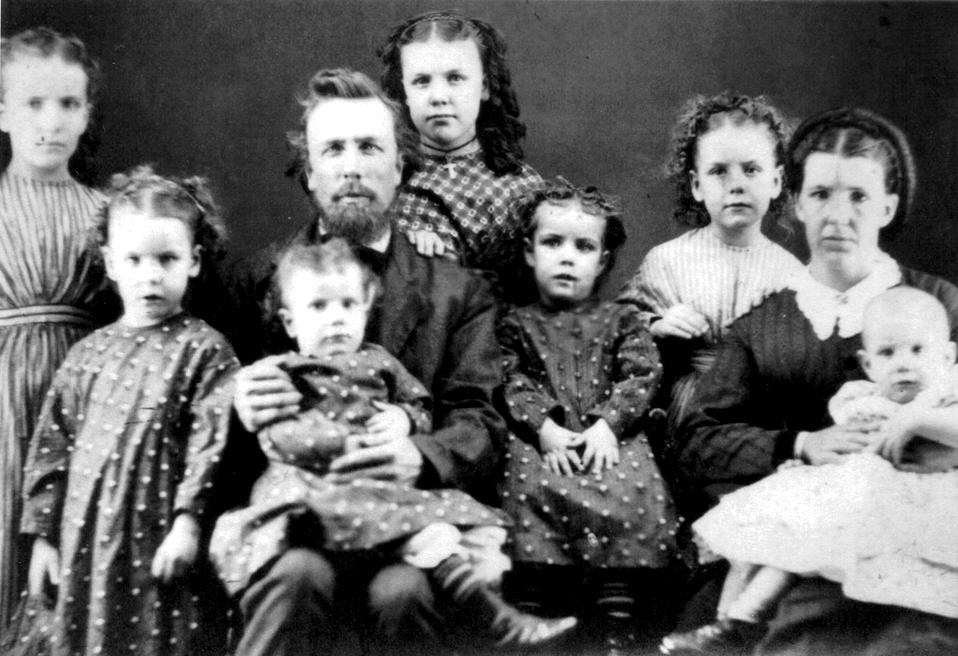 His son, Burt, would stay in the community and become a mailman known to most in the small farming community of Coopersville. Burt Leon Westover married Leone Mosher and they had a son they named Charles Weedon Westover – who then went on to fame as Del Shannon.
Where did the name Weedon come from? Shannon's maternal grandfather was named Weeden Henry Mosher.
Is there anything in the family history of Charles Weedon Westover that would foretell his talent for music?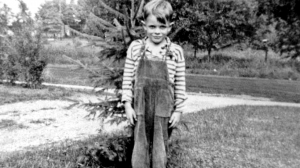 Not really. His many biographies say he was taught the ukulele by his mother and that he took so passionately to the instrument that by fourteen his guitar skills were very well developed.
Shirley Westover, Shannon's wife, would later comment that if there was anything genetic that affected the life of Del Shannon it was alcoholism.
Complicating matters for Shannon was a natural melancholy which would lead to fits of both creativity and depression. Many feel these qualities would later be an influence in his popular music.
He picked up gigs in local night clubs in Grand Rapids, married his childhood sweetheart (Shirley) in 1955 and then was drafted into the Army in 1956. While there he played in a band called the "Cool Flames".
After his military service Charles returned to Coopersville and took different jobs in his home town.
He worked in a carpet store and was a strawberry picker for a while. At night and on weekends he continued to play with a country rock band at a local bar. Over the next several years as he grew in experience he signed a record contract and had to come up with a new name.
He adopted the name Del Shannon because Westover, he said, "had no ammunition."
It is said the name "Del" came from a Cadillac Coupe de Ville driven by the manager of his carpet store job and "Shannon" was a wrestler name a friend wanted to adopt.
It should be noted that Shannon never completely abandoned his Westover identity. Even a 1968 album would be titled The Further Adventures of Charles Westover.
Shannon's career foreshadowed the arrival of the Beatles by a couple of years and came after the phenomenon of Elvis. His rush to fame was no less spectacular than those artists and at times it was a bit much for the small town artist, Chuck Westover (as we he was known locally). All of it was overwhelming.
In fact, his history notes that when he made it big he returned home to a mixed welcome by the community. He had many supporters but the town mayor wasn't one of them. They just were not yet sure about rock 'n roll in Coopersville, Michigan.
Del Shannon would go on to a storied music career, ending up in the Rock and Roll Hall of Fame in 1999. Despite his success Shannon would eventually succumb to his depression when he died by suicide in 1990.
In tracing the genealogy of Charles Weeden Westover I noticed that the recorded histories of his parents and grandparents dating all the way back to John Westover in Sheffield around 1775 is pretty scarce. There is a lot of work to be done there.
I suspect, as with all of us, the story of Del Shannon cannot be fully understood until the life experiences of his ancestors can be fully discovered.
(Visited 1,410 times, 1 visits today)
https://westoverfamilyhistory.org/wp-content/uploads/2019/05/delshannon.png
359
640
Jeff Westover
https://westoverfamilyhistory.org/wp-content/uploads/2022/04/logo22.png
Jeff Westover
2019-05-14 16:50:38
2019-05-14 16:50:38
Yes, Del Shannon is a Westover