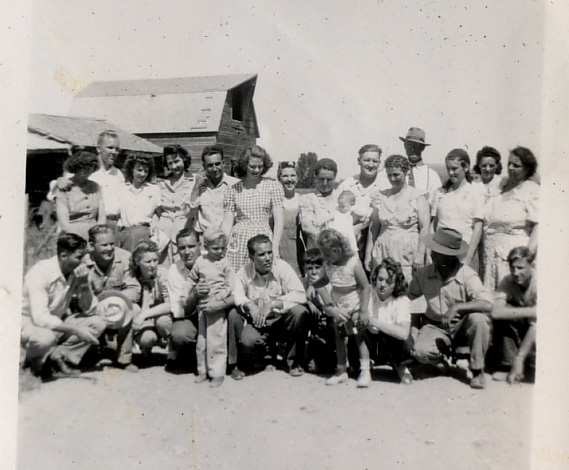 We're soon to release a new video telling the story of William and Ruth Westover.
In truth, all of our other efforts have led us to this point.
William and Ruth are kind of a focal point for the many modern generations of Westovers due to the Westover Ranch in Rexburg, Idaho. The ranch was the homestead for William and Ruth and became central to the lives of their children.
Researching William and Ruth has been frustrating.
Although their history is relatively recent as compared to others we have profiled in the videos we produce there is actually very little left or recorded to share of their story.
In many ways they led tragic lives. William as the eldest son of Edwin and Ann was called upon to perform a long family service from around the age of 8.
He stayed in Mendon until he was well beyond the age of being an adult and I am certain it was to support the Findley family property and that of his mother in Mendon.
He delayed his marriage to Ruth by seven long years. Ruth was a local girl, herself a child of pioneer parents. Ruth and William were close to the same age.
While they did forge a life together and grew a large family they didn't live long enough to see most of their children mature.
William died at the age of 42 of cancer and Ruth died 10 years later – far younger than most of their parents and grandparents.
All this has been known about William and Ruth. I've wanted to know more.
I've searched everything I can think of. The Church has no record of patriarchal blessings for them. The Rexburg ward records and those in Mendon don't even mention them. Court and probate records are silent. Other than the few written histories about them that have existed for years and the few pictures we have of them I can find nothing more.
But where I have found some information that I didn't know before came from indirect sources – through the histories of others who knew them and who associated with them.
I will save it for the video to showcase. But there is one bit of information I want to get out there now about William in particular.
He felt very, very strongly about the land that the Westover Ranch sits on.
How he came to acquire it, what he had to do to work it, and how long it took to happen is a real story that we're yet to fully uncover.
But what we do know is that he desperately worked to complete his claim and put the property in the name of his family before he died. He filed the last of the paperwork just 8 days before he passed.
Perhaps this is why I heard my grandfather speak with such passion about the ranch.
I never understood it as a kid.
After all, I grew up in California. The ranch was a place from the imagination of my grandfather – a place where his memories had huge significance to him. He mentioned to us many, many times how much he wanted us to go to the ranch and make it a part of our lives.
My Uncle Darrell was no less passionate about it.
I can understand why for them it was important.
The children of William and Ruth – the parents and uncles and aunts to my grandfather and my great uncle – had to stay and fight for that place after their father died.
The family all invested many years and lots of sacrifice for that piece of property – and in the process they became beloved to each other.
I don't know the history of that land completely since the days of that generation of the children of William and Ruth. I know the property that we call the ranch is now just a part of what it once was to William.
But I know that a later generation of Westovers came together in the 1970s to preserve it as a family gathering place where the legacy of the family could be celebrated and remembered.
I find it inspiring that the great grandchildren and great-great grandchildren of William and Ruth on many sides work to continue to keep the ranch in the family.
I often wonder what William thinks of all this.
Many of his grandchildren and great grandchildren have now passed over and they can no doubt converse. He knows what they did. He is likely aware of what we are doing now in relation to the ranch.
To me, these generations of William and Ruth's posterity have been wise. Their efforts to keep that piece of dirt in a remote place as a means of remembering who we are and where we come from resonates loudly with me. In many ways, what they have done there is what we've tried to do here on this little website.
The ranch helps us to remember who they were. It bears testimony of their goodness, their service and their sacrifice. It is a witness to all that they believed.
Rexburg is an area rich with history of families who staked a place of love and devotion. Many families have their stories rooted there. The Westovers are just one of many.
We have had to delve a little into the histories of others to find more of the story of William and Ruth. They didn't have the time and they died too young to write much of their story themselves.
But their story has survived, just as the ranch has somehow survived.
We're finishing that video soon. If you have anything we can add to it – pictures, old letters, journals, any kind of memory of record – I plead with you to contact me so that we can include it.
I think William and Ruth's story is important to know and to share.
(Visited 383 times, 1 visits today)
https://westoverfamilyhistory.org/wp-content/uploads/2016/06/Family-Gathering-at-ranch.jpg
470
569
Jeff Westover
https://westoverfamilyhistory.org/wp-content/uploads/2022/04/logo22.png
Jeff Westover
2016-06-21 10:57:23
2016-06-21 11:00:50
Scouring the History of Others to Tell the Story of William and Ruth