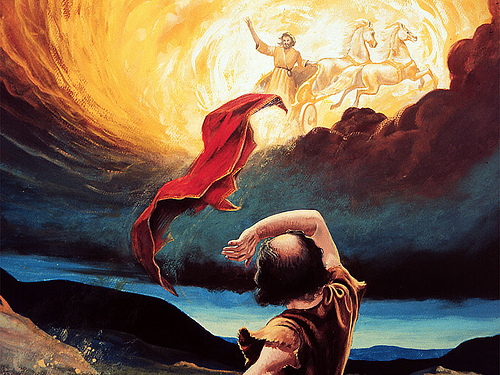 Over the course of the past several months as a new family history consultant in my ward I have engaged in a lot of conversations with my neighbors about the state of their family history and how they feel about doing it. Almost without exception I hear "If I only knew what I was doing I'm sure the work would be further ahead."
I can certainly understand that sentiment. When I took it up a little more than four years ago our family history seemed an impossible hill to climb. And, to be honest, as I've worked on it I have come to the conclusion that it is work that will never truly be done. It's just so much.
But as members of the Church we have expanded understanding thanks to both ancient and modern revelation. As I've considered my experience these past four years I have to admit that I've felt that "Spirit of Elijah" to the extent that my fears of doing family history work have all but vanished and the miracles I experience just keep happening.
That hasn't happened because I know what I'm doing. It's happened because I simply have tried, at last, to be obedient in this area of my life.
Perhaps Elder Bednar explains it better —
"These four words—'Receive the Holy Ghost'—are not a passive pronouncement; rather, they constitute a priesthood injunction—an authoritative admonition to act and not simply to be acted upon (see 2 Nephi 2:26). The Holy Ghost does not become operative in our lives merely because hands are placed upon our heads and those four important words are spoken. As we receive this ordinance, each of us accepts a sacred and ongoing responsibility to desire, to seek, to work, and to so live that we indeed 'receive the Holy Ghost' and its attendant spiritual gifts.
I feel the Holy Ghost as I work on my family history. Doing my best is enough when I have the guidance of the Holy Ghost. Doing family history work is an act of obedience. And obedience unlocks the intelligence, revelation and miracles you need to get the work done.
In studying the loving doctrine of redeeming the dead which is our real reason for these efforts I have come to study the life and mission of Elijah more in order to understand this "Spirit of Elijah" that we speak about.
I found this curious exchange between Elijah and Elisha in 2 Kings Chapter 2: "And it came to pass, when they were gone over, that Elijah said unto Elisha, Ask what I shall do for thee, before I be taken away from thee. And Elisha said, I pray thee, let a double portion of thy spirit be upon me…And he took the mantle of Elijah that fell from him, and smote the waters, and said, Where is the Lord God of Elijah? and when he also had smitten the waters, they parted hither and thither: and Elisha went over. And when the sons of the prophets which were to view at Jericho saw him, they said, The spirit of Elijah doth rest on Elisha."
Scholars describe the "mantle" of Elijah like a coat. Today we understand it as a calling, most closely associated with that of a prophet.
Elijah never tasted of death. And there is a very real reason for that.
He was the key holder of the sealing power through the Melchizdek Priesthood. Malachi the Prophet said that Elijah would return to "turn the hearts" and that happened in 1836 when he appeared to Joseph Smith in the Kirkland temple. Since no one could be resurrected until Christ came forth from the tomb Elijah was translated — meaning that he kept his body in a suspended state that left him protected from sickness and harm — so that he could physically lay his hands upon the Prophet's head in 1836 and restore the keys of sealing.
Since that time you can mark the interest and the progress in the field of family history.
I'm sure Joseph Smith was overwhelmed by not only his experiences but also the scope of the work in front of him. His nephew, Joseph F. Smith, was given a revelation that we now know as Section 138 of the Doctrine and Covenants. It sheds light on the spirit world that awaits us all after we die. It also lovingly explains even better the doctrine of redeeming our kindred dead through the work we do in temples.
All of this is beyond our abilities in a singular sense. But given that its foundation is pure love — and given that we only require an obedient act of work — we have all the qualifications we need to get the work started and to get it done. Family History work is an act of faith, an action of love, and a way for us to prove our obedience. Nowhere in that does it say anything about expertise.
Of course, the more you work it the more expertise you will gather. That is just one of its many blessings.
For me, the lessons of revelation and the reality that we have others on the other side working these things with us and beside us are powerful enough evidences for me to work to qualify myself. I don't know what I'm doing…but I'm getting there. And I'm being greatly blessed in the process.
(Visited 48 times, 1 visits today)
https://westoverfamilyhistory.org/wp-content/uploads/2016/08/6a0120a610bec4970c017d406f46ba970c-500wi.jpg
375
500
Jeff Westover
https://westoverfamilyhistory.org/wp-content/uploads/2022/04/logo22.png
Jeff Westover
2016-08-26 21:55:03
2016-08-26 21:55:03
You Don't Have to Know What You're Doing