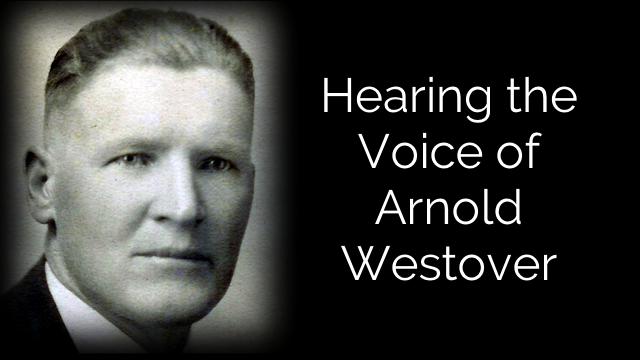 Several weeks ago Kevin Cook shared a real gem on FamilySearch: a voice recording of Arnold Westover.
I am not certain how old the recording is or exactly when it was made. But in the 19 minute clip below you can hear Grandpa Arnold talk of family history, including small bits of information about his parents and grandparents.
This clip is exactly as it was shared on FamilySearch save some minor editing done to reduce the noise level and improve the audio quality.
While there is not any information in this audio clip that we do not know — in fact, I venture to say we likely have more detail today than maybe Arnold had at the time this was recorded — it is a thrill to hear his voice. I don't have any memory of this great-grandfather of mine so I am grateful to have this record.
Arnold was born in 1895, the 6th child of the nine children of William and Ruth Westover.
Arnold was only about 8 years old when his father passed away. The family had always known difficult living but the passing of Arnold's father really placed the family in hardship and forever shaped the character not only of Arnold but of the entire clan. In the audio he speaks a bit of the influence of his brothers especially and of how the family was affected during these early years of his life.
Arnold came of age during the time when the automobile would change transportation. He literally straddled two eras, having spent time in the horse-and-buggy era and living well into the age of modern air travel. Through out it all he knew hard work from the youngest age.
In 1914 his mother passed away and he later married Mary Ann Smith that same year. Within a year, their first son, my grandfather Leon Arnold, would be born. The Arnold Westover family would in time grow to 9 children.
Arnold with his brother Ray purchased additional shares of what was left of their father's farm and worked it themselves for several years, stuggling to make it support two growing families. They raised several crops and had some livestock. Both Arnold's and Ray's histories note several side businesses and activities they pursued in trying to provide for their families.
They were both active in the Church, and likewise served as sextons of the Rexburg Cemetery. Arnold also had some training as a carpenter and used this to build a career for himself for most of his adult life.
Arnold's was a life of continual service. He was noted for aiding the sick and helping to prepare the dead. He served in various leadership capacities at Church and was called upon again and again to render aid. In 1926 he left his family to serve a short term mission in the Eastern States Mission.
When World War II began Arnold was hired to work in the shipyards at Bremerton, Washington. After the war, thinking of his sons who would need work when they returned from their military service, Arnold looked nearby to build a business the family could all work together. That effort led to the establishment of a successful business that left quite a mark on the community of Quincy, Washington. Arnold went on to become a noted citizen and a leader in the community, serving for a period of time as president of the local Chamber of Commerce as well as continuing service in Church leadership capacities.
A full history of Arnold Westover can be read at FamilySearch.org.
(Visited 162 times, 1 visits today)
https://westoverfamilyhistory.org/wp-content/uploads/2019/01/hearingarnold.png
360
640
Jeff Westover
https://westoverfamilyhistory.org/wp-content/uploads/2022/04/logo22.png
Jeff Westover
2019-01-30 13:57:36
2019-01-30 13:59:22
The Voice of Arnold Westover